Daisy Flower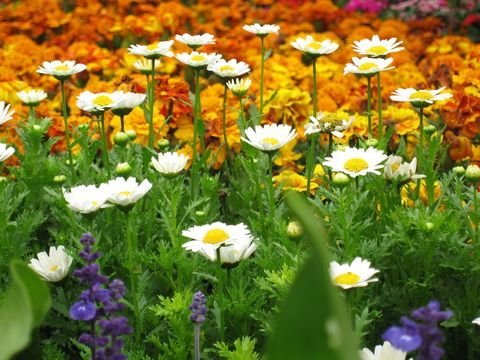 Photo: Tsz Yin Andrew Lee
The daisy flower got it's name form 'daeges-eaye', an English term that translates to 'day's eye'.  Daisies, with their yellow eyes, open with the sun then close when it goes down.  These days-eye blooms are always a favorite with pollinators.  They are distinguished by the ray of white petals that surrounds the yellow eye which can be composed of 15 to 30, or even more petals.


There are several flower species belonging to the Asteraceae family, which is also referred to as Compositae.  Most of us are familiar with a few daisies. 

The

Oxeye daisy



The English daisy


The Shasta daisy




So what is the difference? 


Ox Eye Daisy Flower - Leucanthemum vulgare,

Formerly it was known as

Chrysanthemum leucanthemum

because of their relation to Chrysanthemums.



This is a perennial plant with white flower petals grows up to 2 feet (60 cm) high and the flower head can be 1 to 2 inches (2.5 to 5 cm) in diameter.

This is invasive to North America and regardless of the planting zone needs to be controlled.  Brought from the colonists to America, the roots have a toxicity which leaks into other plant roots, including crops.



| | | |
| --- | --- | --- |
| | | |
It is a herbaceous wildflower and grows in florets and has short rhizomes.  If there is a patch in your lawn it will keep popping up after cutting the grass.  Digging up the root is the best way to remove plant.

Although white is more common for the flower petals, purple petals can also occur.  Other varieties have double flower petals.




Shasta Daisy - These are the cultivated garden favorites that we can pick up at our local nursery. 

This species is named after Mount Shasta where Luther Burbank in 1890 crossed the Oxeye with a Japanese 'daisy'.  The flower heads are larger and can grow up to 4 inches (10 cm) in diameter.  These grow rapidly, and can adjust well to all types of soil.



The above mentioned are the most noted types of daisies.  There is one wildflower that is known for survival in dry and rocky soil conditions called the Blackfoot Daisy (Melampodium porteri).  Plant is heat and drought tolerant.


Commonly found in the southwest (planting zones 6-10) they are a mounding plant that grows in clumps averaging 6 inches high but can get as high as 1 foot.  These grow on rocky surfaces.  If placing these in a rock garden it is very important that there be good drainage.

Daisy flowers have different botanical names including Marguerite and Chrysanthemum.  They can be a Echinacea, Guillardia, Leucanthemum, Helenium species and Dalea subspecies...

Check out this complete and collective website Daisy Paradise (opens new window) and learn so many more plants related to daisies that can attract butterflies and bees to your garden.
I couldn't resist ...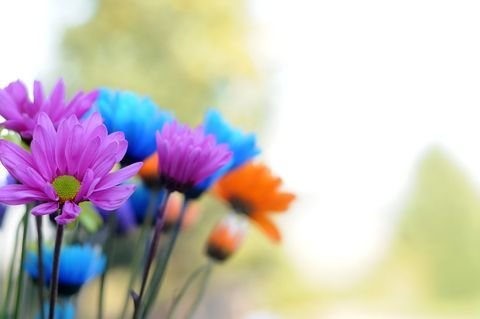 Back to Flowers to Attract Butterflies


Sitemap:  Butterfly Websites


Back from Daisy Flowers to home page Easy Butterfly Garden
---

Copyright © 2010-2022 Easy-Butterfly-Garden.com
Privacy Policy Disclaimer