Candytuft Flowers

Iberis
Iberis sempervirens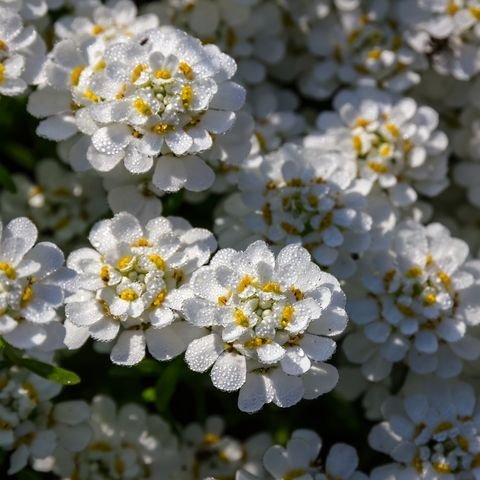 Belonging to the Brassicaceae family (mustard/cabbage), candytuft flowers are found as annuals, perennials and evergreens. This casual plant works well in less formal gardens, rock gardens and spreads well flowing freely over rocks and walls.

After flowers bloom and the weather gets hot, keeping plants trimmed helps appearance as tend to get "leggy". This is why they make a great cascading plant.  If plants are used for edging or ground covering it's best to cut them back as they will have a scraggly appearance.


Annual flower colors include white, pinks and purples.  Perennial blooms are more a wildflower and woody while Iberis sempervirens 'Purity' is considered an semi-evergreen candytuft.  All classifications of Iberis are fast growing plants and bloom mid-to-late spring and early summer, depending on locations. 

With about 50 species, Iberis:


Lower growing up to 12 inches high (30 cm).

Spreads anywhere from 1 to 3 feet (.30m - .91m).
When planting spread plants 12 to 18 inches (30 - 45 cm).
Grows best in full but still grows well in partly sunny conditions.
Water regularly, medium water.  Make sure water is never standing.

Grows in all soil types as long as soil drains well.  They prefer more neutral to alkaline soils.

Candytuft flowers are relatively easy to maintain for the weekend  and beginner gardener.  Try planting them layered into a summer blooming perennial plant.
Found in planting zones 4 - 8. 

Depending on how cold winter can be these plants can fall victim to northwesterly winds making them a half-hardy.  In other areas they are a very hardy plant.



Propagation of can be done with seed and plant cuttings.  Seeds germinate quickly within 2 weeks and can be done indoors just before the last frost.  Keep in mind that Iberis plants self-sow quite easily.  Cuttings will take longer and need to be watched to ensure they live. 

Iberis sempervirens, or perennial rootballs can be divided, it's best to do this in fall.  The annual plants tend to grow taller than the perennials and are not as dense.


Other notable points include:

Attracts butterflies, birds and bees.

During season it is a very showy plant.
Fragrant flowers.
Rabbit resistant.

Drought tolerant up to a point.
Candytuft flowers can get fungal spots, clubroot and gray mold.  These don't affect plant growth too much.


---

FYI:


The medicinal use of candytuft was often during Colonial times for rheumatism, gastrointestinal issues and bronchial problems, including asthma.  Although edible, because of the plants unfavorable bitter taste it's not used today.
Examples of Annuals:



Iberis amara
Iberis ciliata
Iberis gibraltarica
Iberis linifolia
Iberis 'Pink Ice"
Iberis procumbens
Iberis sempervirens
Iberis umbellata


Examples of Perennials:



Iberis Sempervivum 'Alexander's white'
Iberis Sempervivum 'Findel'
Iberis Sempervivum 'purity'
Iberis Sempervivum 'Snow Cushion'
Iberis Sempervivum 'Snow White'
Iberis Sempervivum 'Tahoe'
Iberis Sempervivum 'Whiteout'

---
Back from Candytuft Flowers to Flowers to Attract Butterflies


Back to home page Easy Butterfly Garden
---
---

Copyright © 2010-2022 Easy-Butterfly-Garden.com
Privacy Policy Disclaimer