Growing Plants from Seed

Growing plants from seed can take some practice.
Annuals and perennials are both available in seed form, but in the case of annual seeds merchants have a far greater range of plants available over buying them already germinated at a nursery. Learn seed starting tips for planting both inside and outside.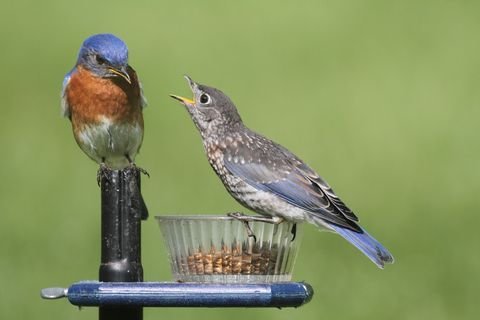 Seed packages come with no guarantees and do require maintenance. For example, seeds may not take, some will become squirrel food, others will transfer to a new location while many remain viable for years without germinating - just as weed seeds do.
For those new to planting seeds it may bring cost down
to provide both store bought germinated flowers while
learning to sow seeds. This way those growing from seed
to plant will look fuller along side the store bought flowers.

The benefits of using seeds:
Growing plants from seed cost less if you are accustomed to working with them. If not, it may take time to get it right.
They can be both annual plants and flowering perennials.

Hardy annuals - the types of seeds that are generally grown from seed. Hardy meaning they will stand up to climate.
Specialty seeds such as uncommon wildflowers and plants that aren't in high demand may only be available through seeds.
Seeds are available in:

Small packages by individual flower and plant types.

Many perennials are in large bags making wild flower gardens or instant meadows. These can require a lot of work. It's the same maintenance as a garden.
There are also Perennial/Annual seed mixes available but can be difficult working with both.

Growing Plants from Seed Outdoors
The ground must be receptive to sowing seeds. With well packed, well established soil seeds have a tough time getting through germination. If you just spread them they're up against well established weeds and their root systems.
Prepare the soil as you would when planting flowers purchased from plant nurseries. Getting rid of weeds and their seeds the best as possible may require a full season of tilling to be eliminated before planting any flower seeds. Once this task is done it is possible to have hundreds of seeds germinating from one packet.

Smother, solarize or use herbicides

Aggressively till
Till and herbicide combo
Once soil is ready seeds can be planted both in spring and fall. In the spring if they are placed outside while temperatures are rising, have weed control fabric or a sheet to place over newly sprouted seedlings if expecting any end of season frosts. Don't use plastic as this could kill
new baby plants.

It can be better to plant perennial seeds in fall. Seeds of many perennial require the dormant late fall planting giving exposure to damp, cold temperatures before germination.
Read Instructions, if any.

Rake seeds in. In nature seeds drop on to soils surface and fall into ridges or cracks and germinate there. When planting don't cover too deeply with soil.
Can "Broadcast" or scatter seeds by hand. Apply 1/2 in one direction and the other 1/2 in perpendicular direction. Apply equally each direction.
To prevent seeds from being washed away or eaten by squirrels and birds, place about 1/2 weed free straw.
Rule of thumb herbaceous plants, or soft, fleshy stemmed plant that goes dormant in winter - Spread 20-40 seeds per square foot.
Don't overseed areas. Dense planting can promote plant diseases. It also creates heavy competition of species where less impressive blooms result.


Growing Plants from Seed Indoors
You may also opt for starting seeds indoors. Seed starting supplies can include:
Containers at least 3" deep and have a hole in the bottom for water drainage:
Individual Empty plant container flats that previous plants
Plastic plant plugs
Yogurt cups
Larger containers regardless of shape
Clay pots
Peat pots


Seed starting mixes:
A quality seed starting mix helps germinate seeds in a sterile, light and porous environment allowing for both the moisture and oxygen.

These include vermiculite, milled sphagnum moss, perlite, sand or mix combinations.
Miscellaneous:
Large bucket

Labels and Pens for dating and identifying seeds.

Place seed starting mix in large bucket and start adding water. Don't make mix soggy. Place potting mix in individual containers. If using one larger container use a pencil or other object to run a furrow in soil up to 3/4" deep, no deeper. Another option place the edge of a board in soil to create one long furrow. Place individual seeds about an inch apart.

Important ingredients for success when growing plants from seed:


Water - Check mix daily to ensure soil mix is moist.
Light - Light source can be natural or artificial. If there is not enough light stringy, pale stalks will grow.
Temperature - It's best to place seeds in a warm place and preferably about 80 degrees. Don't place on windowsills if there is cold air.

Placing plastic over container will create a greenhouse effect
where moisture and warmth are retained.

Depending on the plant seeds germinate anywhere from 5-14 days, some later. Once small plants appear move light farther out. Temperatures at this point can be cooler starting at 70 degrees.
---
FYI:
Some flowers, such as the purple coneflower, take two years to bloom from seed.

Some flowers grow better when seeds are planted vs. store purchased transplants. One example is poppies which don't transplant well.
---
Related Articles:
---

Back from Growing Plants from Seed to home page
---

Copyright © 2010-2022 Easy-Butterfly-Garden.com
Privacy Policy Disclaimer