Butterfly House

There can some confusion about the purpose of a butterfly house,
which sometimes are called butterfly boxes.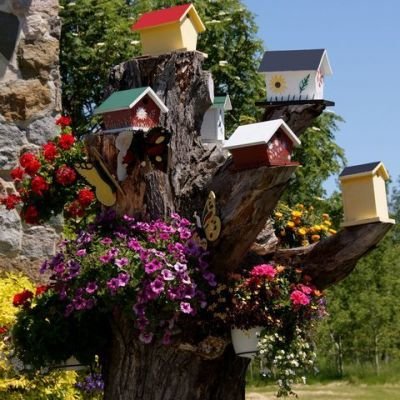 Seeing birds feed and take shelter with bird houses,
it is assumed that butterflies will come and go just the same.
Actually the better term for these homes for butterflies would be hibernation box. The history behind these boxes goes back to Scotland where many butterflies hibernate, or overwinter, in the adult stage.
---
| | |
| --- | --- |
| In nature butterflies seek shelter under trees, leaves, fences, hiding in other vegetation and under eaves of houses. These provide winter refuge for butterflies. | |

The long, narrow openings in front of butterfly boxes are designed to mimic a crevice or hollow tree opening. Placement of these small wooden boxes is important. Wooded and shaded areas are best.


Winds in the United States prevail from the northwest. Inconspicuous areas where minimal exposure to the elements ensuring safety through the winter is the butterfly habitat they are seeking.

If you put a butterfly house in a highly visible area where there is plenty of sunshine then assume this small wooden box to be a garden ornament for your enjoyment.
Optimal areas for placement of butterfly houses can be on the outskirts of property where there is likely to be a cluster of trees and plenty of shade. It is also a good idea to have butterfly host plants and nectar sources close by. These sleeping beauties will need energy when waking up in spring.

Butterflies seek weeds as host plants just the same as they would plants from your garden. Weeds can also have flowers that provide nectar sources. So your chosen area may include weeds already present or selective weeding which is maintained. Using vegetation native to your geographic area encourages native butterflies to visit. In time you will see more species of butterflies flying by.

Don't be discouraged if you don't get immediate occupancy. This can take time. Butterflies seek shelter in the fall when temperatures begin to drop. Helping to encourage a butterfly flying by to stop can be to combine the house to a butterfly feeder. Butterfly feeders would provide nectar sources for them to feed upon and can be as easy as placing fruit out.
Placing these houses to a best height is in debate. There may be no perfect answer. Understanding where to place them is more important - out of windy areas where butterflies will feel safe.



These houses can be purchased and they are also easily made. They are simply a small wooden box with a few small openings and even a front door that swings open allowing you to place twigs and leaves inside.

Making these shelters can be fun for gardeners, kids and even make great earth day crafts. After construction they can be painted creatively by each individual or left plain without any design. Making them can be from scratch or by purchasing a butterfly house kit. As far as the wood to use, most are fine except for cedar. Cedar wood is pungent and has oils that most butterflies want nothing to do with. The best wood is pine and it is also inexpensive.

The purpose with having flowers brightly colored on these boxes is to appeal to butterflies - and to us. Butterflies see colors differently than we do with their compound eyes. Everything is seen as an intricate mosaic. In North America butterflies prefer the color Purple, Pink, Yellow, White, Blue and Red - in this order. Purple and yellow are exceptional to drawing butterflies to boxes.
When placing a butterfly house in a wooded area it can be
painted or plain. Painting helps the butterfly to see it.




---
FYI:
By placing twigs and leaves inside or secured on the outside of box, butterflies will be more likely to stop. For example, Anglewings, Tortioseshells and Mourning Cloaks prefer Elms, Hops, Nettles and Willows when seeking a hibernation sight.

Use the host plants that are familiar to butterflies in your area in the same manner as with the above example.
With a butterfly needing to stay warm over the winter, just as we do, consider that the wood pile you have for fire wood may be home to these butterfly species. If you are attempting to create a butterfly garden keep this in mind before throwing the log on the fire!
Not only do houses and butterfly feeders make great earth day crafts, they also make great gardening gifts for the person who likes getting their hands dirty.
---
Related Articles:
Exotic
- Exotic vs. Native. What this means.
---

Back from Butterfly House to home page Easy Butterfly Garden


---

Copyright © 2010-2022 Easy-Butterfly-Garden.com
Privacy Policy Disclaimer