Calliopsis

Coreopsis perennial, Tickseed



Calliopsis, also known as Tickseed and Coreopsis. These are great for any garden and raised bed because they grow easily and attract pollinators.


I love flowers from the Asteraceae plant family. Overall all are simple, low maintenance flowers that add a rainbow of colors to any butterfly garden while attracting wanted pollinator insects and other wildlife that seek their flower seeds.


Calliopais are mid-season to late-season bloomers. They can show their blooms all the way to the first autumn frost. Not only are they flowers that attract butterflies like but birds seek out their seeds.


Birds include Juncos, Sparrows, Buntings and Finches. The seeds last into winter where they can provide much needed protein and fat for them. Butterflies that are attracted to the blooms include the Common Buckeye butterfly and Eastern Tailed Blue butterfly.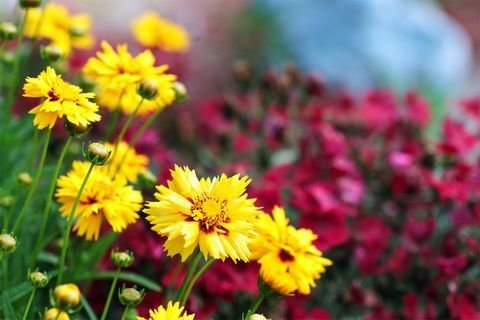 There are approximately 100 plant species, mostly herbaceous perennials but there are also annuals. Perennial flowers grow successfully in planting zones 3-9. Some are compact, others can grow continuously and sprawl out beyond 1-2 feet. Propagation can be done easily by division.

Perennial plants resemble daisies and average 3 feet tall but given the right environment can grow much taller. Flowers don't do well in extremely wet environments. They grow successfully in most soil types but prefer sandy soils and can be quite drought tolerant with full sun.

When we think of
Calliopsis

we think more often of the yellow perennial flowers.




Although Calliopsis is a name shared by other flowering plants, including Tickseed and Coreopsis flower other colors can include:






Many Asteraceae, plants, including Aster flower, are considered deer resistant. Depending on your area, when winters are harsh and deer are hungry, they can chew both leaves and flowers from this family that they normally would not go for during the summer season. For me, it's my Rudbeckia hirta.


To better understand what deer seek out, prevention and the plants they love see:




---
Plant Grabber on Amazon has great color options for Coreopsis perennial seeds and if you are willing to be patient, the .01 cent price is right!



Back to Flowers to Attract Butterflies


Sitemap: Butterfly Websites


Back from Calliopsis to home page Easy Butterfly Garden




---

Copyright © 2010-2022 Easy-Butterfly-Garden.com
Privacy Policy Disclaimer