Homemade Weed Killer

Homemade weed killer is becoming a very popular alternative to
over the counter options. Not only is it a more organic weed control method, it's money saving too!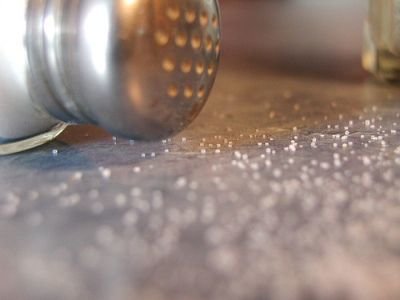 As with chemicals used to kill weeds, display the same herbicide safety. You don't want to damage wanted flowers and plants. Safety first prevents harm to you, your family and pets.
Take advantage of sunny days to give the extra
boost of heat the sunlight has to offer. These will
still work on overcast days,
just not as fast.

I would recommend trying all of these easy homemade weed killers. They work well.

You might also find
your own favorite.

1) Table Salt
Sprinkle it, Spray it - it works!  If you need to kill poison ivy salt works great.  Be aware salts can damage concrete and mortar so apply caution choosing locations with this method.

Try this homemade weed killer recipe if you need more than a sprinkle:
Combine about 3 pounds of salt with approximately one gallon soapy water.  Soap helps to adhere formula to plant.
2) Rubbing Alcohol
Combine alcohol with water in a spray bottle. For most weeds you don't need a lot of alcohol. If the weeds show resistance, use more alcohol. This is a contact weed killer.
3) Vinegar Weed Killer
This vinegar is the stuff you cook with. It has a smaller percentage of acetic acid than the professional organic weed control methods.
Spray directly onto the leaves and into the root area. This works on a variety of weeds including Bermuda grass, Dandelions, Foxtail and Thistles.
4) Create own Recipe for Vinegar Weed Killer
Mix and Match until you find what works for you -
Boil the vinegar for added strength
Combine Vinegar and Table Salt
Use soapy formula to help adhere formula to leaves
I've seen other recipes where gin is used.
5) Baking Soda

This organic weed killer works best in warmer climates.  If you have a problem with grass weeds such as Crabgrass and St. Augustine grass sprinkle this or create your own formula with the suggestions above.
6) Bleach

This is the best weed killer for replacing over the counter contact sprays for me.  Rather than spending ten times the money, I found this was the solution for the never ending task of weeds in the gravel driveway.  Be aware, many generic brands are watered down.
7) Propane Torch / Burning Weeds

This organic weed killer that can't be found at the grocery store.  The best and safest use for using this method is in the driveway and sidewalk.  Use extreme caution if applying to the soil on a weed patch.

The propane torch method is used by applying flame directly over the weed or weeds.  Use circling motions during application.  While burning weeds, liquids within them will begin to dry and the root system will eventually overheat, killing everything.

Annual weeds usually require one treatment.  Perennials and deep-rooted weeds may require more than one treatment.


This method is highly effective at killing weeds.
8) Boiling Water

When I first started gardening I was given a real pretty plant to fill space.  It was Purple loosestrife. I've since learned that many types of Loosestrife are considered invasive weeds.

Many flowers and plants that weren't established in my garden were being choked out by the loosestrife.


I then desperately tried boiling water. Boiling water works well as a pre-emergent killing germinating weed seeds.  I've done this with dry and damp soil after it rained. Both work well. Sometimes I've had to re-apply. This keeps weeds from re-appearing for a long time.


Get creative using Salt, Vinegar and Alcohol here to. It is important to make sure you apply richer, darker soil at least once a year. Boiling water can also kill wanted elements in the soil.
Related articles to homemade weed killer:
---

Back from Homemade Weed Killer to home Easy-Butterfly-Garden
---

Copyright © 2010-2022 Easy-Butterfly-Garden.com
Privacy Policy Disclaimer